Our founders
Dallin & Victoria
BS Exercise Science & Athletic Performance (BYU-Hawaii), CrossFit L2
Family, health and fitness, and business are among my greatest passions (along with ADAMS peanut butter). My fitness journey started when I was about 15 years old, overweight, and unhappy with myself. While preparing to compete at a high level of paintball (yup, that's a real thing), and with the little I knew about health and fitness I worked hard to lose over 50lb of body fat. Fast forward 7 years and I discovered CrossFit (thanks to Victoria, my soon-to-be wife at the time) and fell in love! This training methodology transformed my fitness quicker than anything I had done prior! I also fell in love with the community, there is nothing like going to work out with like-minded people who want to work hard and have fun together. I am passionate about helping people become more, which looks different to everyone. This is why I became a coach. I believe that when you get "fit" and accomplish your goals you gain the ability to accomplish so much more in life. When I'm not at the gym I love spending time with Victoria and our little girl…who keeps us very busy. Together we enjoy anything that has to do with food, laughing, and the outdoors. Victoria and I love the people here at Peninsula CrossFit and feel they are our big extended family! We truly want each member of our community to become their absolute happiest, healthiest, fit, and best selves.
CrossFit L2, Action PT Cert, Head Coach
I love adventures. I found CrossFit two months after my second son was born and it has become my adventure for the past 8 years. Prior to CrossFit, I was drawn to team sports: volleyball, futsal and cheerleading (competitive cheerleading IS a major workout!) I started coaching fitness just prior to finding CrossFit. I led bootcamps, taught aquafit and started mom & babe groups. CrossFit has extended my Island family, given me some of my best friends and allowed me to journey with amazing people towards our health goals. Outside of the gym I have the joy of homeschooling my amazing boys, climbing mountains with my husband and running a business with my sister. Coaching CrossFit is such a fulfilling role. Everyday someone takes a vulnerable step and extends their belief in their capabilities.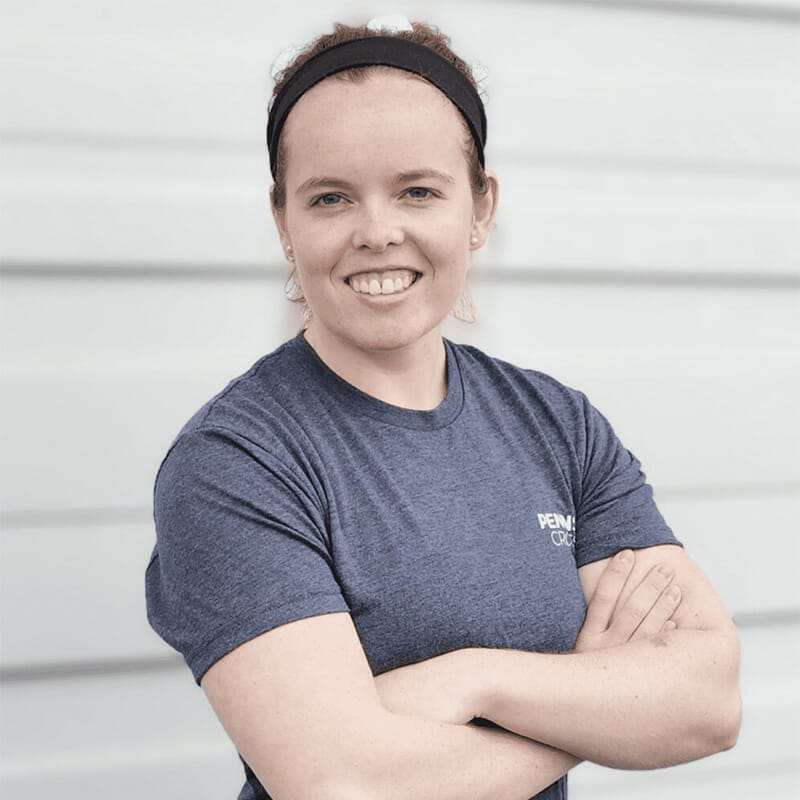 CrossFit L1, Precision Nutrition L2, BSc Psychology
Growing up I played soccer and volleyball. During university, I struggled with going to the gym. After graduation, I found Peninsula CrossFit. I still love the community and training methodology as much as I did when I started! During the pandemic I injured my back and, while rehabbing it, I took the opportunity to learn more about nutrition and sports psychology. When I returned to the gym I felt I had evolved as an athlete and was excited to be offered the chance to coach. My favorite thing about coaching is being a part of each athlete's journey and witnessing the progress they make when they commit to showing up, working hard and having fun! Outside of training I like spending time with my dogs!
BSc Kinesiology, CrossFit L2
I've always had a massive interest in health and fitness. My first 'real' job was as a lifeguard and swim instructor at Panorama Recreation. I competed in high level sports in high school, and eventually retired to pursue a degree in Kinesiology at the University of Victoria. There, I developed a keen interest in strength and conditioning, and nutrition. I am lucky to be able to actually use my degree; both at the CrossFit gym, and also in my own practice. I have a huge heart for improving women's lives with simple and sustainable nutrition and functional fitness plans. I love coaching because of the community. After a serious injury (and endless studying for 5 years) my motivation and fitness had plummeted. I tried a few different sports, and a few different gyms, but nothing really stuck. After trying out a class at PCF, I was hooked! It was such an encouraging and fun place to be. While, in many ways, I still feel as though I am working my way back to my full capacity, I feel so supported and challenged by the community at the gym along the way. This made me want to be able to offer the same to others. While I started out coaching kids and youth, it quickly expanded to adult classes as well. I love the ability to share my knowledge and celebrate the successes with the members every day! When I'm not at the gym you can find me finding Sidney's best cup of coffee, out on adventures with friends, or competing over board games.
CrossFit Online L1, Precision Nutrition L1, BA English Literature (BYU-Hawaii)
I am so happy to be part of the team here at Peninsula CrossFit as the head Nutrition coach. I was born here on the Peninsula but as a teenager, my family sailed to remote islands in the South Pacific. I finished High School in Samoa and loved the people and culture and of course the food. I was fascinated from a young age by how the islanders were so self-reliant and easily grew or caught their food on a daily basis. They could swim for miles out onto the reefs for fish and carry heavy bunches of bananas and taro from their plantations and even grown men could climb straight up coconut trees in minutes. I saw first hand what strong healthy bodies could do. I became interested in real-life fitness and eating whole foods from this time on. My husband and I love to travel the world with our kids and adventure and sail and discover new cultures and of course delicious foods. When I first discovered how practical CrossFit movements were I thought back to my days in Samoa and felt right at home. I love to coach Nutrition because I see what a difference healthy eating can make and how strong our bodies can become as we pair Fitness and Nutrition! Come chat with me any time about how habit-based Nutrition coaching can supercharge the efforts you are already making in the gym.
CrossFit Online L1
Growing up I wasn't too active (I played some sports but not a lot). It wasn't until High-school that I really got involved and I joined the rugby team. My job of over 18 years is fairly physical so I didn't really need to do much to be in ok shape. I hated going to the gym though, I could never find the motivation to do anything or push myself. It wasn't until I became a Firefighter that I realized I needed something more. It was then when I was introduced to CrossFit and I found my passion. The best part about coaching here is the people! Hearing their stories and goals along with their hopes and dreams and working together to accomplish them is so rewarding. Giving back that which was given to me is my main motivation, and having a great time while doing it…. Well, it's the icing on the cake. When not coaching I am a husband and a father of two beautiful girls. As I mentioned above I am also a Firefighter in Sidney. If you can't tell pretty much my whole life is about serving and giving back. I try and live by a simple motto, Honor Ante Omnia, Honor before Everything, we leave no one behind. No matter who you are, when you walk through those doors, you are one of us, we are equals, we are family, we are Ohana, No one gets left behind or forgotten.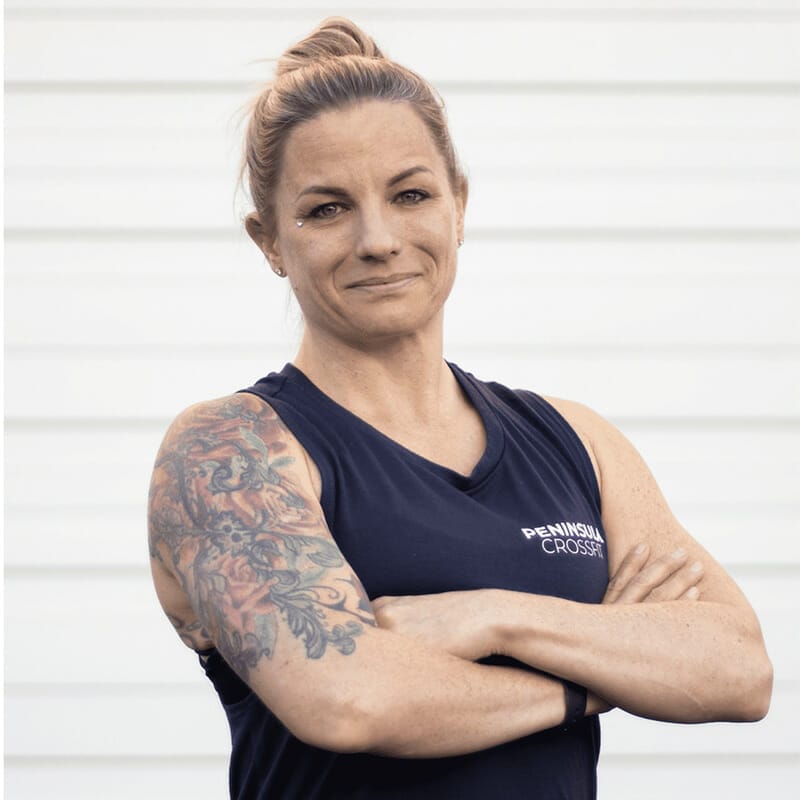 RMT, CrossFit L3, ACE PT Cert., Precision Nutrition L2, WAG L1 Cert.
I grew up so far from being athletic it's hard to imagine that childhood now. I think I tried playing basketball once… and then I realized I was too short for the game. I haven't always loved health and fitness but now, it's my entire life. Fitness, nutrition and a healthy lifestyle are a cornerstone to treating and managing my depression. I have devoted a good portion of the last decade learning to live the best life possible despite my struggles and now, I'm extremely passionate about helping other people do the same at Peninsula CrossFit. I joined PCF in 2015 and it's been my 2nd home ever since. When I'm not in the gym I can be found working in my clinic, or out learning something totally new, or just chilling on the couch with my cats. I like ADAM's peanut butter too… almost as much as I like cheesecake.
CrossFit L1
My journey of fitness began early as I grew up playing Ice Hockey and Lacrosse which led me into other types of training modalities, in order to excel. Through different types of training I discovered some elements of Crossfit, but was not sure if it was for me. I eventually took the leap and quickly fell in love with the community, training methodology, and the health benefits that came with it. After experiencing Crossfit as a member I decided that I would like to learn more and coach members to achieve their goals. I think that this is truly what I enjoy the most out of being a coach; helping members achieve their fitness goals, whether it be small or large. It is rewarding to see people succeed. When I am not working out I enjoy riding my mountain bike, playing hockey, and spending time with friends. I love being a coach at Peninsula Crossfit and hope I am able to help members achieve their goals for years to come.
CrossFit L1
Growing up I was very active in sport. Specifically, playing rugby, football and hockey as I aged out of these sports I found a lack of physical activity in my life and an increased amount of workload taking an engineering degree at school. Crossfit allowed me to regain my passion for being active. From this I have become very passionate about using the gym as a place to create a mindset that not only benefits people in the gym but also in their daily lives! When I am not in the gym you can probably find me climbing mountains or getting on the water fishing!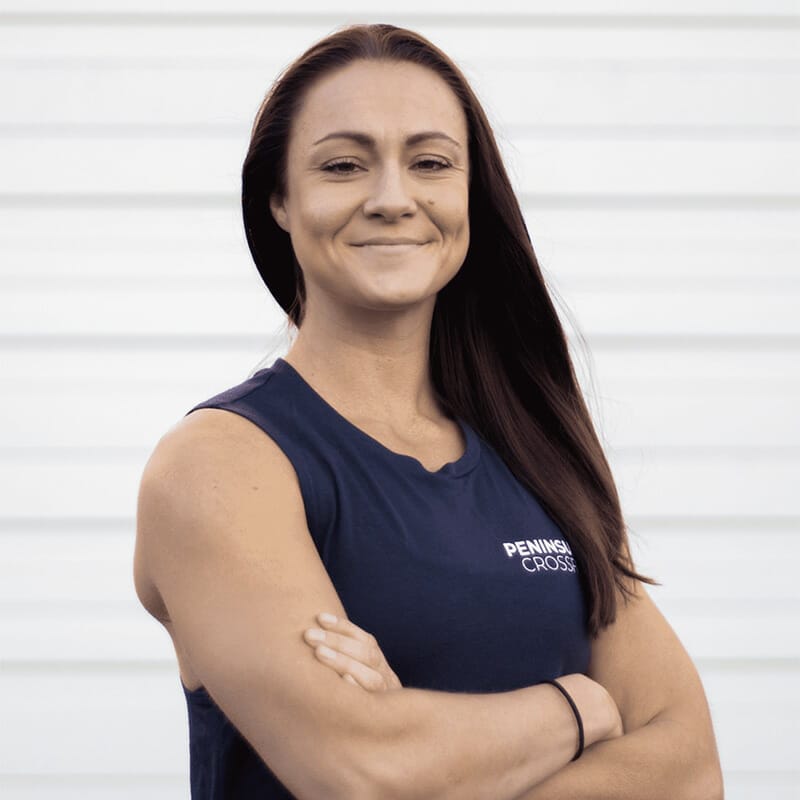 CrossFit L2, CanFit PT Cert.
Health and fitness have always been a big part of my life. In my youth my world revolved around sports but particularly soccer. I played for UVIC and the Highlanders while getting my nursing degree for as long as I could until balancing shift work and a team schedule became increasingly difficult. As my priorities shifted to my nursing career, Crossfit became a better fit for my schedule. I started Crossfit in 2009 and haven't looked back. Crossfit has brought me valuable friendships and relationships that I am thankful for everyday and PCF has become my second home. As a nurse I see many people that are unable to workout helping me stay grateful that I get to workout at the capacity and the frequency that I do. As a coach I love seeing the positive changes in individuals that stem from their consistency in coming to the gym. When I'm not in the gym, you will find me outside hiking with my dog and searching for the perfect breakfast sandwiches. Oh and yes I like raisins in my cinnamon buns, I'm one of those people.
CrossFit L1
I have been active my whole life through sports like baseball, basketball, track and field and swimming throughout grade school. Post-graduation I would go to the gym, but I found it rather boring and very routine. 8 years ago, a friend convinced me to try a CrossFit class with her – and though I was skeptical at first, I've been hooked ever since. As an athlete I love how I am always able to challenge myself and reach new goals, the workouts never get boring and the community around you is forever motivating. From a coaching perspective I love being able to help our members achieve their goals and do things they never thought possible. The community is amazing and the connections you make are invaluable. Outside of CrossFit, I enjoy adventuring outdoors or at the lake, and spending time with my family and friends.
Get started
Click the button below to book a free intro. See if Peninsula CrossFit is right for you.
Fill out the form below to get started
Take the first step towards getting the results that you want
Free Intro